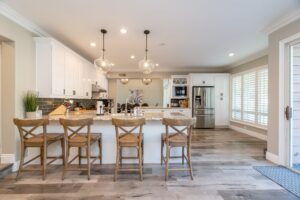 Home Inspection Glossary
interior inspections
Axiom will inspect:
A representative number of doors and windows by opening and closing them;

floors, walls and ceilings;

stairs, steps, landings, stairways and ramps

railings, guards and handrails; and

garage vehicle doors and the operation of garage vehicle door openers, using normal operating controls.
We will describe:
a garage vehicle door as manually-operated or installed with a garage door opener.
We will report as in need of correction:
improper spacing between intermediate balusters, spindles and rails for steps, stairways, guards and railings;

photo-electric safety sensors that did not operate properly; and

any window that was obviously fogged or displayed other evidence of broken seals.
inspect paint, wallpaper, window treatments or finish treatments.
inspect floor coverings or carpeting.
inspect central vacuum systems.
inspect for safety glazing.
inspect security systems or components.
evaluate the fastening of islands, countertops, cabinets, sink tops or fixtures.
move furniture, stored items, or any coverings, such as carpets or rugs, in order to Inspect the concealed floor structure.*
move suspended-ceiling tiles.
inspect or move any household appliances.*
inspect or operate equipment housed in the garage, except as otherwise noted.
verify or certify the proper operation of any pressure-activated auto-reverse or related safety feature of a garage door.*
operate or evaluate any security bar release and opening mechanisms, whether interior or exterior, including their compliance with local, state or federal standards.
operate any system, appliance or component that requires the use of special keys, codes, combinations or devices.
operate or evaluate self-cleaning oven cycles, tilt guards/latches, or signal lights.
inspect microwave ovens or test leakage from microwave ovens.
operate or examine any sauna, steam-generating equipment, kiln, toaster, ice maker, coffee maker, can opener, bread warmer, blender, instant hot-water dispenser, or other small, ancillary appliances or devices.
inspect elevators.
inspect remote controls.
inspect appliances.*
inspect items not permanently installed.
discover firewall compromises.
inspect pools, spas or fountains.
determine the adequacy of whirlpool or spa jets, water force, or bubble effects.
determine the structural integrity or leakage of pools or spas.
The Interior inspection includes all available areas such as and not limited to, walls, ceilings, closets, windows and floors that are readily available at the time of the inspection.